EDMONTON'S CERTIFIED
SMART SHADES & BLINDS EXPERTS  
We Design, Install and Program Your Shades to Move on Your Schedule
Smart Shades Built to Specification to Last
Contact Our Showroom for a Consultation
VISIT OUR SHOWROOM
4449 99th Street NW
Edmonton, AB T6E 5B6
PHONE: 780-441-9944
BUSINESS HOURS
Monday to Friday:  
9AM - 5:00PM
Saturdays:
By Appointment Only 
COMPATIBLE WINDOW TREATMENTS AVAILABLE WITH POWERVIEW® AUTOMATION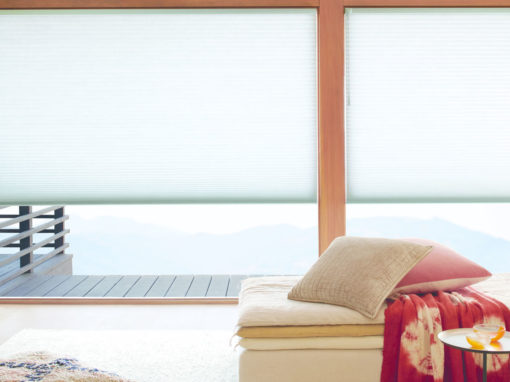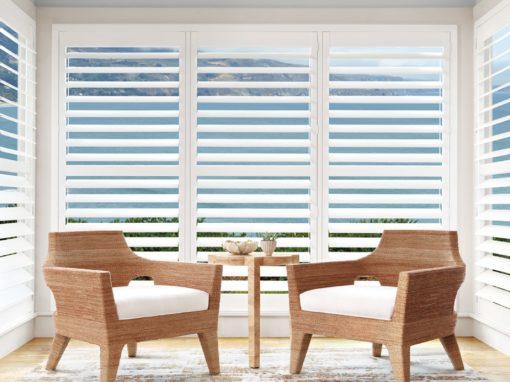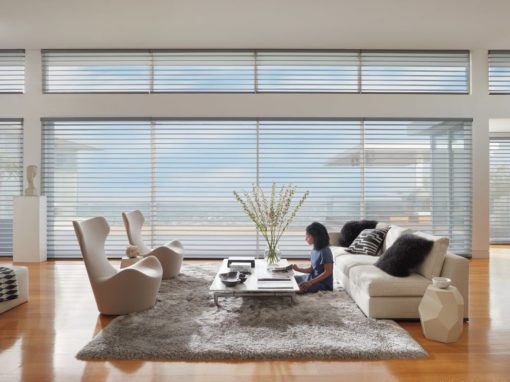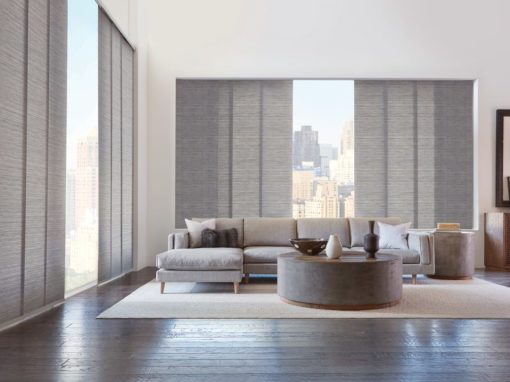 About 30% of a home's heating energy is lost through windows. In cooling seasons, about 76% of sunlight that falls on standard double-pane windows enters to become heat.  Window coverings can help with this loss of energy by providing comfort, regulating temperatures, and lowering energy bills.
Window Shades That Move on Command
Shade Automation | Remote Control | Voice Command
Automate YOUr Shades with your phone
Control YOur Shades with HandHeld REMOTE CONTROL
OPERATE YOUR SHADES WITH VOICE COMMAND
Why Smart Shades?
Added Convenience—easily control shades with a button press, tap on your mobile device, automatically, or even with your voice.
Increased Privacy—schedule shades to automatically close whenever you want.
Better Energy Efficiency—schedule shades to raise and lower to keep interiors warmer or cooler, depending on the season.
Enhanced Security—give your home a lived-in look while you're away by scheduling shades to automatically raise and lower at set times.
Safer for Children—because smart shades lack lift cords, they're a safer option than shades with exposed cords.
Simplify Your Home Environment Edmonton with Smart Shades
Hunter Douglas PowerView® Automation
"Most window coverings are operable, and yet 75% of residential window coverings remain in the same position every day, according to a study by the U.S. Department of Energy.  Don't fall into this habit – be strategic about which coverings you open and close throughout the day."
Source: energy.gov
Great shop, easy access and parking, Luis and his staff are all friendly and knowledgeable!
Monique Hnatiuk
2022-03-01
Luis and team are incredibly helpful. It was a very easy process to pick out the perfect style and type of blinds for our home. Everything went very smooth from showroom visit, in home measure, and install. Highly recommend!
We had blinds installed over five years ago and have recently run into a motor problem with one. The solution was prompt, the staff were friendly, and they even went to bat for me with the manufacturer to get the issue covered by warranty. It's lovely to know good service is still out there!
Luis and his company provided excellent service, from listening to our preferences, explaining the options and how each one might meet our needs, giving good advice, measuring the windows correctly, and ensuring the accurate installation of the finished product. Luis is a consummate professional, pleasant to deal with, and has surrounded himself with a high quality team of people. Luba in his front office was personable and helpful. Kyle, his installer, along with his assistant did an excellent job and explained various characteristics of the blinds and how to operate them. We are thrilled with the final result and the gorgeous transformation it created in our home.
Great customer service! Very happy with both the product and experience.
Leanne McKinnon
2021-08-13
This was a very professional experience. The sales person came and took the measurements for our large picture window blind and smaller foyer window blinds and an office blind and provided a quote very shortly after that house call. Then the blinds were ordered and came in earlier then expected. The living room blind had a small flaw so another one will be ordered and they installed this one in the meantime. I am pleased with the service I have gotten and everyone has been professional and polite.
We got motorized blinds for our family room and kitchen windows. I just love them. Wished I would have done that a long time ago. Expressions was just excellent! Install was very professional! Would definitely recommend them to my friends and family!
Narmatha Balachandra
2021-08-04
We got blinds for our custom new home from Expressions and we are thoroughly happy with them! They were professional, gave us sound advice, they delivered and installed on time with zero hiccups! They were always just a phone call away and so easy to deal with. We would work with Expressions at Home again in a heart beat!
We purchased our curtains three years ago and were very pleased with both the product and the service provided by Luis and the installer. Up to recently we had no problems but our remote became problematical and we contacted Luis and the store manager. They were both very helpful arranging for a new remote and programming it identical to our old remote so it took only one visit and there was no charge for the service. The service was prompt and professional despite the time since the original purchase which is strong evidence of a continued relationship with previous customers. Would strongly recommend them for their commitment to quality, service, and professionalism
VISIT OUR SHOWROOM
4449 99th Street NW
Edmonton, AB T6E 5B6
PHONE: 780-441-9944
BUSINESS HOURS
Monday to Friday:  
9AM - 5:00PM
Saturdays:
By Appointment Only